Trunnion Mounted Ball Valves
The trunnion ball valve is a very reliable form of quarter-turn valves, as the design relies on a perforated and fixed/supported metal ball,so trunnion ball valves are available in a range of sizes that can be used for a variety of tasks.
Trunnion ball valve are used in many applications and are often used to shut off or regulate the flow of oil and gas. Manufactured in the China, trunnion ball valves are available in a variety of sizes to meet any application.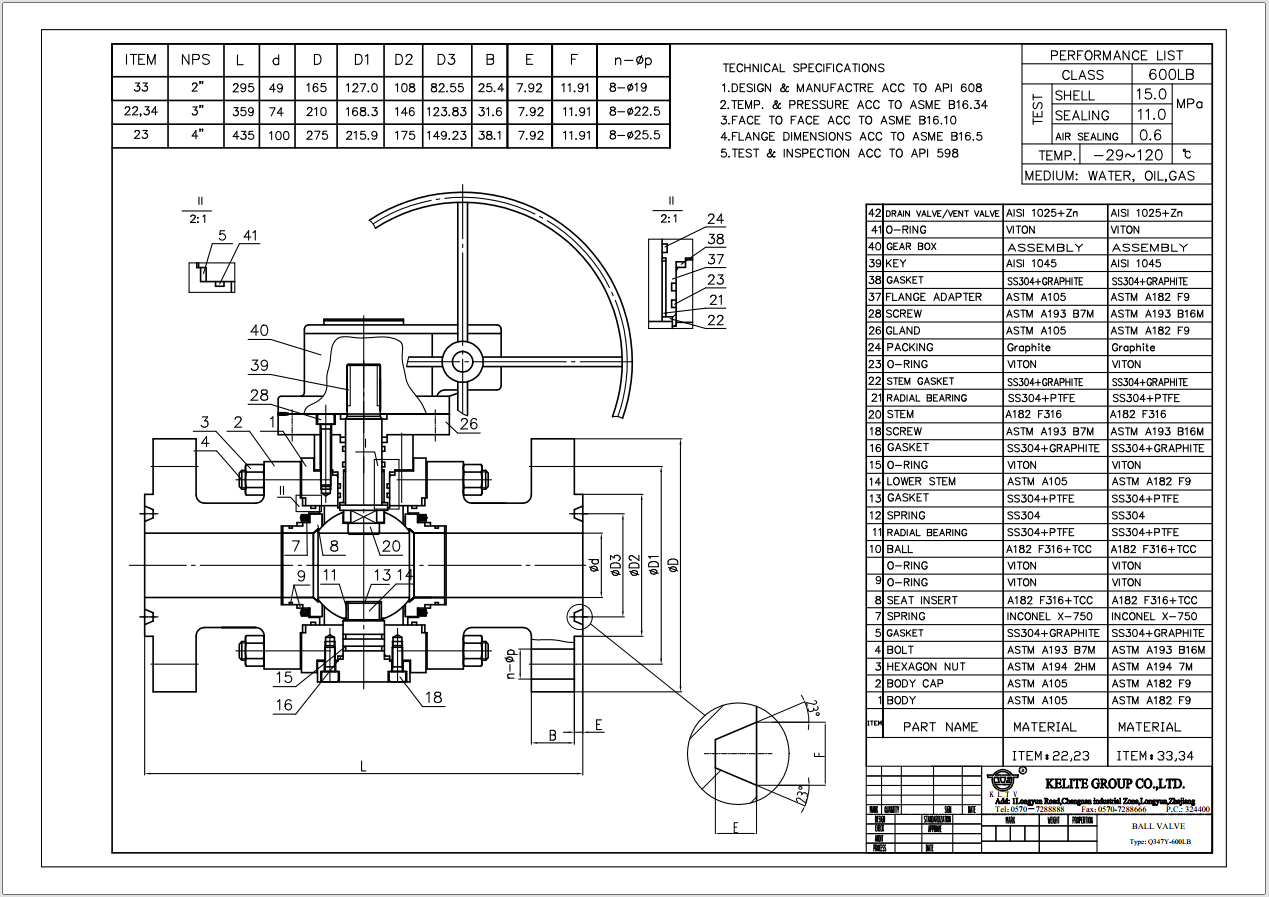 Designed for high-pressure or high-temperature applications, the trunnion ball valve is a multi-purpose valve with a ball and stem design, making it ideal for highly demanding service conditions. This valve is designed on a stem and trunnion, reducing the operating torque by an astounding 20% or more. The exact stroke of each valve is controlled by the spring loaded seats, which provide a smooth action on both open and close
Trunnion Ball Valve Applications
Trunnion ball valves are used in a wide range of applications ranging from water, oil and gas to potable water and solids. They can be found in municipal and industrial water systems as well as in chemical plants, manufacturing facilities, hospitals, and power plants.
Certifications & Compliance
Trunnion mounted ball Valves are designed and manufactured to internationally recognized standards including but not limited to the following:
Our company provides trunnion mounted ball valves that are designed and manufactured to meet the needs of customers worldwide,so our trunnion ball valves are recognized by standards as API 6D and API 6D monogram.
Trunnion Mounted Ball Valve Configurations
Body Features
The body of casing of a ball valve protects the internal parts and makes for better durability,and our
trunnion mounted ball valves body materials are available for carbon steel, stainless steel, low-temperature carbon steel, duplex, super duplex, Inconel, and more depending on the application.
Stem
Trunnion mounted ball valve stem is connected to the ball through welded joints, which controls the movement of the ball,the reinforced anti-blowout designed stems that can withstand cryogenic and high-temperature applications without sustaining any damage.
Seat design Features
Trunnion mounted ball valves are a type of ball valve where the actuator is connected to a stem that is in turn mounted to a trunnion. A ball on the interior of the actuator sits snugly within seats cut into the valve body. When the actuator is turned, it forces the seats to come closer and push against the ball, forcing it firmly into place.
Metal Seated
Metal seat design advantage make trunnion mounted ball valve meet high pressure and temperature applications operating.
Soft Seated
Soft seat design are generally made of thermoplastic materials like PTFE and are great for applications where chemicals are involved. These materials provide a tight seal when pressure is applied, which can be big in some industries like food service or the medical industry.
Valves Trunnion Design
Trunnion mounted ball valves that have a trunnion, the holding shaft is placed below the ball so it will stay in place and not get loose. It is called a trunnion and it keeps the ball from coming loose.Trunnion also know as lower stem,same as upper shaft the materials will be forged stainless steel like A182 F6A,A182 F304,A182 F316,etc.
Ball
A ball valve is a type of valve with a ball-shaped disk attached to the stem. The disks are made from a number of perforations that allow fluid to flow in one direction through the disk, but not the other.Trunnion Ball Valves utilize balls or disks that can be rotated to provide a sealing surface while still in contact with the stationary seat. This design reduces torque and wear and tear on the parts of the valve.
Spring
Trunnion mounted ball valve has a trunnion that allows for the pressure load to be supported, and the seats on it are spring-energized & made from forging or casting materials.
Actuator
A ball valve has an actuator that opens or closes it. This is used depending on the application and the medium. It can be bare stem, gear, hand lever, pneumatic actuator or hydraulic actuator.
Floating VS The Trunnion Mounted Ball Valve
Floating Ball Valve
The floating ball valve is distinguished by its unique floating design. A continuous watertight seal is formed between the body and the floating ball at the inlet and outlet ports of the valve body. This revolutionary design allows for quick& easy installation and prevents water from entering or escaping when pressure changes in the process of operation.
Trunnion Mounted Ball Valve
Trunnion mounted ball valves are the most common type of ball valve in use today. They offer a" free floating" ball design that is perfect for precisely shutting and opening a pipe with relative ease.Trunnion ball valves are a preferred choice for control, security and maintenance of water and other liquids. They are made with corrosion resistant materials and provide a wide range of application options.
DBB VS DIB
Double block and bleed(DBB)
Single valve that is equipped with two sealing surfaces. It has the capacity to close tightly against pressure on either side and even has a reservoir for bleeding or releasing pressure.
Double Isolation and Bleed(DIB)
DIB Single valve with two seating surfaces,with two sealing surfaces,each of which,in the closed position,provides a seal against pressure from a single source,with a means of venting/bleeding the cavity between the sealing surfaces.this feature can be provided in one direction in one direction or in both directions.
Trunnion ball valves advantages
High pressure applications
Allowable working pressure, torque, and the process fluid applications are key factors in choosing a design for a trunnion ball valve. Other important considerations include the size of the valve and whether or not one or two pressure-limiting mechanisms are needed,which floating ball valve can't reach.Our trunnion mounted ball valve pressure applications will range 150LBS to 2500 LBS.
Low operational costs
A ball valve that is mounted on a trunnion has lower operational costs and less friction because any additional pressure is caught by the ball and stem. That leads to lower operating torque, which allows for less power to be used during running time.
The key features are:
1.Fire Safe design
Fulfills the requirements of API 607/API 6FA, so that there is no risk to your system in the event of an emergency.
2.Anti static
The trunnion valve is a specific type of ball valves with antistaic design,make sure safety and no leakage.
3.Double block and bleed
Use the seats sealing before the ball,the two seats seals can close inlet and outlet respectively to implate the function.
4.To drain the body of its fluids automatically
When temperature goes up & pressure goes up, it's normal for a construction design to show signs of self decompression. This allows the seat to slide and release the pressure so it doesn't burst.
5.Optional: Double piston effect seat seal
The double-piston design provides high pressure in the body cavity.A cavity pressure relief device is a device used to reduce pressure in the body cavity of a ball valves that are caused by falling piston rings/seating ring(s).

6. Full port (Trunnion Ball Valve)
Pipeline ball valves is convenient for Pig service. They have the same bore as your pipeline, so you don't have to make any modifications in your current system.
7.Emergency seal and lubricating sealant
when the seat sealing ring is damaged by accident,we can inject the sealant emergency injection fittings to avoid the leakage by seat seal ring.
8.The design of the top mounting flange for actuator
The material composition of the top mounting flange ensures that it meets up to the strictest quality standards and helps ensure that it will outlast a standard lifetime.
9.Extended stem for underground
To install the valves undergroud,extending the stem including all the revant pipes,drain,vent and emergency sealant lines.
10.Extended stem for low temperature service
To support the valve's packing to be working well in low temperature and resulted in the good seal,the stem extend for the applications.
11.EMERGENCY STEM SEALANT INJECTION
The valve stem has a grease fitting that allows the stem to be adapted with a sealant to prevent damage when unexpected conditions occur.